WELCOME TO ZION SHOOTING EXPERIENCE
Welcome to America, land of the free, home of the brave. Welcome to Zion Shooting Experience, where you're free to shoot guns…if you're brave enough!
We'd like to invite you to visit our electrifying all-American gun-shooting range experience. If you're on vacation in Southern Utah, you've done the bus tours, you've taken in the beauty of Zion National Park, and you're ready for something different. Something exciting. Something….with explosions!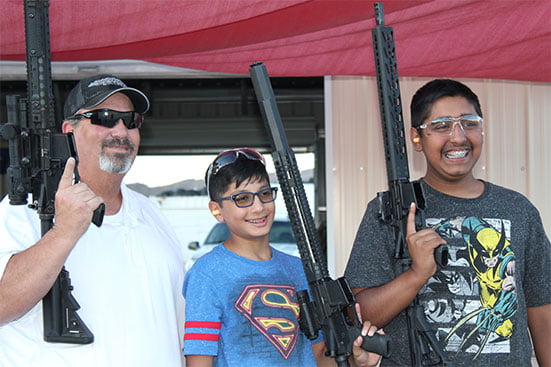 Even if you've never taken a shot with a gun before (or even seen a gun anywhere other than on TV) we'll give you a trainer to teach you how to handle guns, ammo, and grenades. We'll keep you safe while showing you how to aim and shoot. Sounds good, right?
A lot of Hurricane Utah shooting ranges will give you boring old paper targets to shoot at. We'd like to welcome you to the 21st century and give you a whole range of targets to shoot at. Where's the satisfaction in shooting a glorified notepad? You want things that go ping, ting, and bang!
We have a range of targets made of metal, some static, some moving. There are a few explosive targets in there too, which is sure to make your time with us go with a bang!
Your Zion shooting experience would not be complete without the option of breaching and clearing a house, along with trying out some explosive targets! You've seen it on Call of Duty, and now you can try it out for real!
This range is a top-quality shooting experience is designed with safety in mind and is suitable for people at all levels. If you've never shot a gun before or up to a seasoned veteran, we look forward to meeting you and seeing how well you can aim!
Our goal at Zion shooting range is to ensure you have fun. All the things to do in Zion National Park don't have to be based around looking at the scenery – it's stunning, of course, but it doesn't get your heart racing like hitting a target dead center!
Holding a gun in your hand for the first time is an experience in itself. You'll feel the inherent power, the incredible capability, the rawness of the metal. You have the ability to use this power, to control it, master it or you can go home without ever having this experience – the choice is yours.
Join us near Zion – if you're looking for a Washington Utah shooting range we're right where you need us to be. See the natural beauty, shoot the place up, and go back home as a changed person. Was that little taste of freedom enough for you?
We promise you'll have an enjoyable and exciting experience every time you visit us, and safety is our priority. When you want something a little different for a birthday party, bachelor/bachelorette party, corporate event or just a day where you do something for yourself, this United States shooting range is your go-to destination.
We believe that everyone needs the chance to feel the rush you get from firing hundreds of rounds down range. Experience the American dream. Experience freedom. It's the Zion Shooting Experience.
Remember, you can't do this in many other countries. The United States gives its citizens the right to bear arms, and we pass this advantage on to you. Everyone you meet at Zion Shooting Experience are true professionals, trained in the use of a range of guns, grenades, explosives and they'll help you out even if you don't know one end of a gun from the other. It's quite important that you figure that one out early on!
SOUTHERN UTAH SHOOTING RANGE PACKAGE
Dave provided us a great experience. Loved shooting all the different weapons. Top quality weapons and instructions. Had a great time

JIM S.
I have booked the freedom package for my daughter and me. We spent two hours with the greatest guns and rifle instructor I have ever meet. If only I wasn't from Italy, I will be shooting in Zion Shooting Experience every week! Thanks Dave

ANDREA B
Came up from Las Vegas and had the time of my life shooting with these guys. I highly recommend it to anyone that enjoys having fun!

MAC